Modulus 002 – Interview with Philip Taysom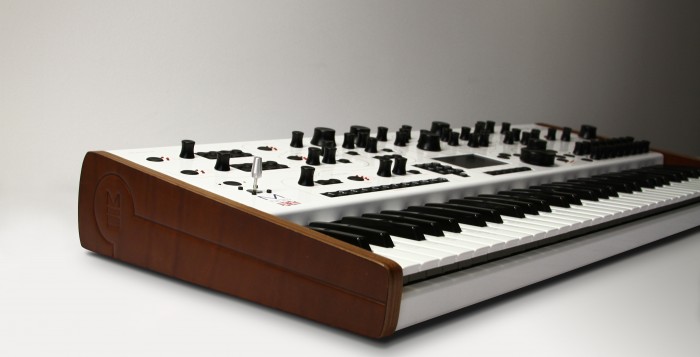 Last week we featured the release of the new Modulus.002 synthesizer from British manufacturers Modulus and got so excited about it we had to catch up with Modulus co-founder Philip Taysom to ask a few questions.
---
What was the inspiration behind the modulus.002?
That's a good question. Between us, Paul and I have owned pretty much every classic (and some not so classic) synthesisers of the past fifty years. Synth players will always recall fond memories of the sonic capabilities of classic machines, shortly before remembering the lack of reliability/tuning stability and interfacing options! We wanted to create a 'go to' synth – an instrument which an owner chose to go to first in composing, an instrument which owners used to explore its sonic possibilities because of the advanced user interface and control surface, rather than just preset surfing. And, above all, an instrument that you want to keep with you for the long term – one which, every time you turn it on, reminds you why you spent your hard earned cash buying it.
Even with an absence of additional processing other than the filter the modulus.002 appears to be quite a deep synth. Was this intended from the beginning or did it build up during the design process?
002 has enormous sonic power. With two oscillators, the two sub-oscilators have a very unusual feature in that they can take on the waveform of the primary oscillators – giving you four oscillators with the same waveform. This is per voice. The filter provides very extensive and, for an analogue machine, unusual features such as the sweep function enabling you to morph from a fizzy one pole all the way through to a bombastic four pole. Then added to all of this, the Animator provides 12 channels of 32 steps of parameter sequencing – effectively providing a further twelve LFO's per voice, on top of the two primary LFO's – but with the ability to be sequenced rather than merely modulated by a waveform. Of course there's our very powerful arpegiator that enables arpeggio sequences to be created by holding notes and then turning them off to create rhythmic sequences – which can then be saved 'as sequences' for later recall into the 16 track sequencer.
Finally, 002 adds a stunning UI which can also be accessed using a web browser – so there's no need for a separate plugin – and online sync to the cloud. All of these features were set out from the outset of the design process when we started back in July last year. Other features we wanted from the start were high quality effects and digital interfacing into DAW's – these will be provided by the 002 Digital Output Card which we aim to release at the end of this year. This card provides each of 002's 12 channels over USB at upto 192kHz/24bit in addition to the master stereo output and a stereo input, which is processed pre-filter on 002.
With a glut of cheap and versatile synths having flooded the market in the past few years is there space for a monster synth with a price tag to match?
I can't agree with your implied comment that '002 has a monster price tag'. This suggests that you can buy something comparable for less. I'd challenge anyone to find an alternative that offers everything 002 does for even twice the price of 002. If you listen to the sounds 002 makes, how much would a vintage synth capable of sounding like this cost? Probably two or even three times the price of 002. Also, 002 is made to be an 'instrument' – something an owner can have a long term connection with – and so is built to last for many years, using very high quality components throughout. Finally, we only intend to supply 002 to a relatively small (in the overall context of the £750m a year keyboard industry!) number of 002's to customers and clients who want un-compromised sonic flexibility, build quality and user interface. We're already selling 002 very well so we have no concerns about whether there's 'space' in the market – customers are showing us there is and that 002 is the instrument they've been wanting for a long time.
Can you please explain the modulus.cloud and the decision to take it open source?
From the outset in the design process we wanted 002 to have the ability to interface in a new and more flexible way. We are all waiting for the 'next generation' MIDI standard to be ratified, but one key thing we can see is that the physical connection for 'next gen' MIDI is going to be ethernet. In order to give as much flexibility as possible to 002 owners, it was always logical to put ethernet on our instrument. We'd always dreamt of a platform where you can share content on your instrument with collaborators – and the cloud functions of Modulus 002's OS do just that. As we were creating this platform, it just seemed logical to offer it to other manufacturers in the hope that, perhaps one day, we'll have cloud storage, sharing and editing features across synths.
You've previously mentioned that this would be the first in a line of synths from modulus. Can you give us any details on the others?
I'm afraid we only talk about what we can deliver today, not what we're going to do – this was one of the key reasons behind not announcing 002 until she was ready to ship. We don't believe in marketing vapourware products that are not available for 12 to 18 months after they've been announced We do plan on making several announcements early next year so do watch this space.
---
The Modulus.002 is available now. Go to www.modulus.me for full details and check out the Sonic State video preview with Paul Maddox