Mega-synth Modulus.002 Out Now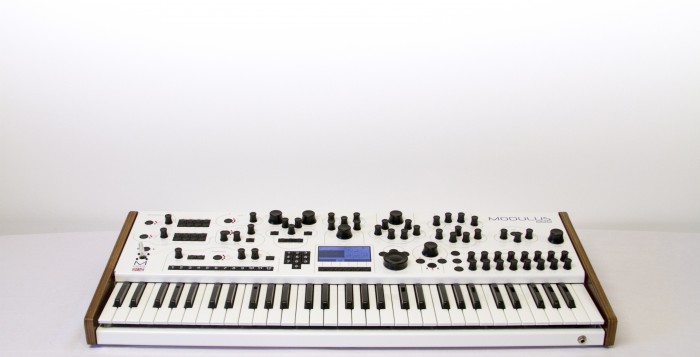 Modulus.002, the British designed and built new mega-synth from Bristol-based Modulus, is out now. Large in sound potential, physical size and financial cost, this synth was born out of a desire to create a synth that aimed for the high end, especially now as hardware synthesizers are currently experiencing a resurgence in popularity but most new synths seemed designed for the low to middle ground. Modulus co-founder and principle designer Paul Maddox explains:
"This came about because I've had a long-held dream to build a polysynth since I was knee high. I've nearly got there several times, but it was a golden opportunity in July last year when my business partner, Philip Taysom, and myself sat together and said, 'Now is a good time to do it.' Both Philip and myself are passionate about synthesisers, and we feel that the synthesiser market has been neglected for a long time in terms of high-end, pro — in quality and feel — instruments. I quite often equate this to a PRS guitar. There is nowhere in the synthesiser industry that I'm aware of where you can go and buy the equivalent of a PRS. That's what we're aiming at — top quality, top to bottom."
As an analogue/digital hybrid keyboard synthesiser (using an aftertouch-enabled premium Fatar semi-weighted, five-octave key mechanism), modulus.002 provides 12 discrete voices of polyphony with full multitimbrality if so desired. As such, it features two NCOs (Numerically-Controlled Oscillators) per voice for exceedingly high resolution and stability with wide-reaching waveform selections, together with two sub-oscillators, individually (and uniquely) switchable from a traditional square wave to having the same waveform as the main NCO to effectively produce four oscillators per voice; a Modulus-designed 24dB/octave fourpole transistor ladder filter featuring some very unusual morphing or 'polesweeping' effects, enabling ear-opening transitions from 24dB/octave four-pole to 6dB/octave one-pole filtering and anywhere in between; one LFO per voice as well as a global LFO; wide-ranging modulation options, all accessible directly via the  front panel — no navigating convoluted and confusing menus; a pure analogue signal path from the oscillators right the way through to the combined XLR/TRS balanced/unbalanced outputs (with all 12 voices individually available for external processing via a dedicated D-Sub connector); and two audio inputs enabling internal audio processing from the VCF onwards.
There's also an inbuilt MIDI-syncable 16-track, 12-row, 32-step sequencer with 16 front panel-positioned step-time editing controls can give any hardware rivals already out there a serious run for their money. For sequences can not only be transposed dynamically while running but sophisticated so-called 'mini arpeggiator sequences' created using the arpeggiator's Hold mode can be quickly saved as sequences for recall and editing at a later date using the sequencer. Moreover, modulus.002's Animator allows any control to be sequenced, enabling complex filter transitions, waveform changes, and modulation matrix changes to be sequenced.
Modulus.002 also features, somewhat uniquely, an Ethernet port meaning it can be connected to a network to enable updates via the Internet as well as access to the modulus.cloud. The modulus.cloud enables user profile
settings, sound patches, sequences, and other content can be easily replicated to a cloud-based server platform to enable rapid resynchronisation to another modulus.002, regardless of whether it is owned by the same user or a collaborator at a remote location.
Coming in £2995 GBP/€3795 EUR/$5200 USD (all prices not including VAT or local taxes) it's not exactly an impulse purchase for anyone, even those with deep pockets, but considering the sound design features it could well be a synth that could happily be the only synth in a set up.  The addition of the modulus.cloud is a great touch and takes away a lot of the headaches traditionally associated with patch management on a hardware device and enables plugin style sharing between users and profiles. Out now and available from Toys4Noise in the UK but directly from Modulus for international sales, go to the Modulus website for full details.