MOTU Strike Thrice With Thunderbolt and Ethernet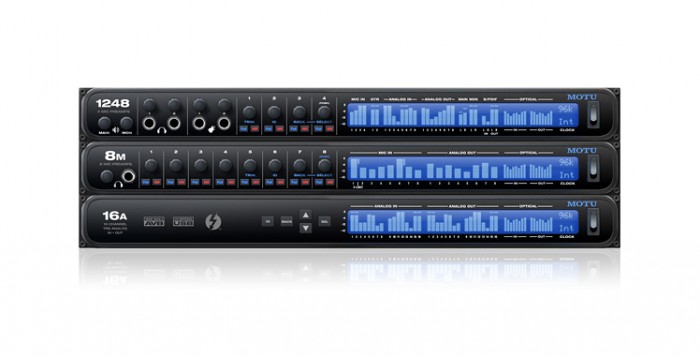 MOTU have announced a new line of audio interfaces with the 1248, the 8M and 16A. As well as offering USB2 connectivity they can run over Thunderbolt and, most excitingly, offer Ethernet expansion. More on that in a moment.
As you might expect when comparing the units against each other they all offer varying I/O options but all 3 interfaces feature the latest generation ESS Sabre32 Ultra convertors, very low analog I/O latency (32 samples/0.66 ms at 48kHz), full metering on all I/O via the front panel 324×28 LCD screen, and the latest TotalMix software. With 32-bit floating point precision, the mixer's 48 inputs can take signal from the physical inputs on the interface itself, audio channels from host software on the computer, audio network streams and mixer outputs. The mixer provides 7 stereo aux busses, 3 groups, a reverb bus that can alternately serve as a 4th group, a Main Mix bus and a separate Monitor bus that doubles a solo bus. Effects include classic reverb, 4-band modeled analog EQ, modeled vintage compression and gating. A flexible matrix routing grid makes it easy for users to route audio to and from the mixer, the computer and audio network streams, including the ability to split a single input (or input pair) to multiple destinations.
Hang on a minute, "audio network streams"?
Yup, these are the first MOTU interfaces to offer networking over ethernet. While there are a few "standards" currently available (Focusrite's RedNet ethernet audio networking range uses Dante) MOTU have chosen to go with the AVB, Audio Visual Broadcasting, as developed by the IEEE. For these interfaces, what this means is that you can create your own audio network using upto 5 AVB enabled MOTU interfaces! You can create a network of two simply by connecting them with a CAT-5E cable or you can create a network of up to 5 interfaces using an MOTU AVB Switch (sold separately, obviously). You can also daisychain Switches to add more interfaces which becomes especially useful when you factor in that ethernet can offer cable runs of upto 100m enabling  massive networks both in channel count and in physical distance. Any MOTU interface or Thundrebolt connected computer on an AVB network can send and receive 128 channels of network audio, with a maximum of 512 channels per network and all running at a fixed point to point latency of 30 samples (0.625 ms) when running at 48kHz. AVB allows network wide precision clocking and users can simply click the "Become Clock Master" button in the control software to immediately resolve all devices on the network to the chosen master device.
If, after stocking every room in your facility with interfaces and switches, you have a spare ethernet port left over on an interface or switch you can connect your WiFi router and access the all interfaces' and network's settings, routing options and TotalMix interface through a web browser on any web browser compatible device, and multiple can access these settings at the same time too!
While not the first manufacturer to bring ethernet capabilities to audio interfaces these extra controls definitely lend a unique spin to the interfaces. The main benefits of Ethernet audio technology really only cater to those with huge channel requirements or large spaces to cover but with the multi-user control possibilities offered by the web browsers MOTU might have found a further niche to explore.
Street price of all the interfaces are $1495USD or £1190UK with the Switch coming in at $295USD (UK price TBC). Full details can be found on the MOTU website.