NUGEN Audio Release SEQ-S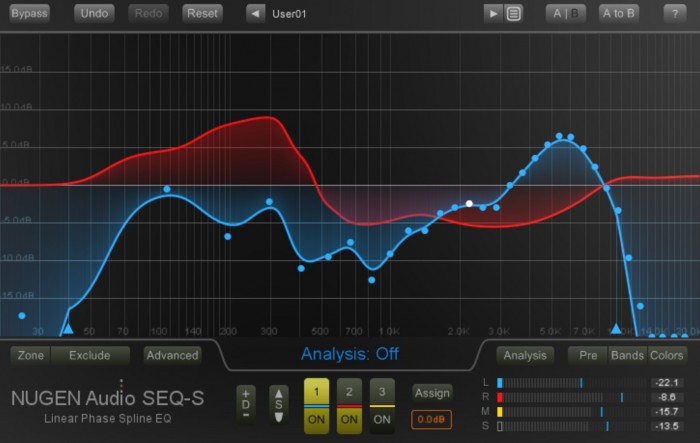 NUGEN Audio have released the SEQ-S, a linear phase spline-match EQ.
As with other NUGEN products, SEQ-S appears to be a "no cut corners" approach offering mono, stereo, 5.1 and 7.1 support, stereo MS operation, automated spectrum analysis, curve smoothing and a direct-draw spline interface for corrective application. Jon Schorah, Creative Director for NUGEN Audio, adds,
"Unlike many digital EQs, SEQ-S features a phase profile that is linear across the frequency spectrum which results in natural sounding EQ changes and produces minimal phase artifacts. SEQ-S also includes a unique resolution setting that can be used with high precision in the low frequencies, allowing for highly transparent adjustments without muddying the mix."
On top of these SEQ-S offers an "Invert" button making usual space saving techniques as literally simple as pressing a bunch. Perhaps most excitingly, the "match" in the "spline-match" description refers to the ability of cloning the EQ in a piece of audio and then transferring onto yours! While SEQ-S won't be the first EQ to offer this there's no doubt that NUGEN will offer one of the best applications of this concept so far.
Available now for $249, it comes in as VST, VST3, AAX and AU in 32 and 64bit formats. There is an RTAS version but that is only in a 32bit version. For full details visit the NUGEN Audio website.