Native Instruments have formally announced a double whammy of Komplete Kontrol S alongside Komplete 10.
It's been no secret that NI have been developing a controller to debut this autumn, leaks and teasers have been appearing the past couple of months, but now it's officially been announced that the project was for the Komplete Kontrol S keyboard and controller. Looking a lot like NI wanted to have this stand side by side with Maschine, it comes in 3 sizes – 25, 49 and 61 Fatar keybed keys – and all control options appear to remain intact across the three lengths.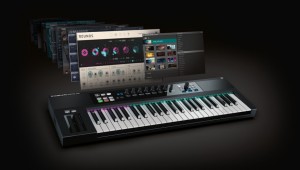 Main features on Komplete Kontrol S are a browser that will, no doubt, integrate heavily into both sound, sample and preset selection a la Maschine, automatic parameter mapping via Native Map,  2 multi-purpose touch strips, an arpeggiator, integrated scale mapping, a scale mode, and the ability to control 3rd party software much like, I imagine, Novation's Automap software. The real fancy bow on this particular present appears to be the Light Guide, multi coloured LEDs above every key. While backlit pads have been a staple of controllers for a while now this is, and please correct us if we're wrong, the first large scale usage for keyboard keys. This is a seemingly awesome feature as it has so many potential applications and NI seem to have thought long and hard about how these lights can be integrated. For instance, they can correspond to different coloured groups within Battery and display the actual colours, they can display which notes will be played in an Arpeggio, they can show key splits, they can easily guide a player through a particular scale… You get the scope of possibilities. Komplete Kontrol has, apparently, been designed with Komplete 10 in mind so this will give some idea of the level of integration given. Speaking of which…
Komplete 10 is also here. It offers 3 new synths and 3 new acoustic instruments. In the synths you get: Rounds – a sequencer with both analogue modelled and digital synth engines, Polyplex – a sampler built in conjunction with Twisted Tools, and Kontour – a phase modulation synth designed by NI co-founder Stephan Schmitt. With the acoustic instruments there are 3 pianos: an 1908 upright called The Gentleman, a concert grand called The Grandeur, but most interesting of all is The Maverick, a 1905 concert grand make especially for the Prince of Prussia!
Komplete Kontrol S is available for £429, £499, or £599 for 25, 49 or 61 keys, respectively. Komplete 10 is available in either regular or ULTIMATE editions which clock in at £429 or £849 respectively. Upgrades and crossgrades are available. For a full breakdown of the difference between Komplete 10 and Komplete 10 Ultimate check here. All will be available on October 01, and for full details check the Native Instruments website.