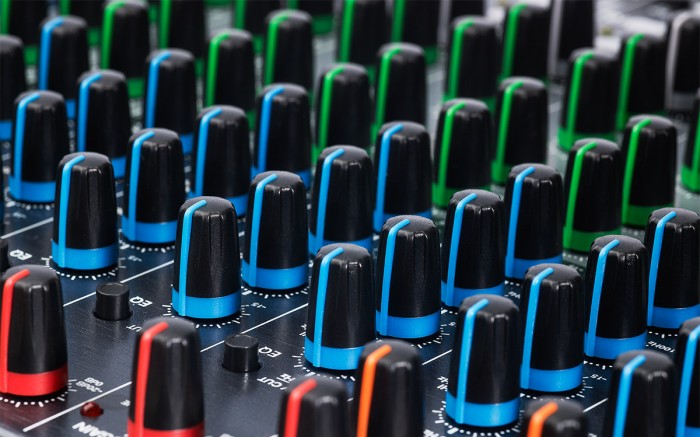 Live sound specialists, Alto Professional have announced the immediate release of their all new Live Series analogue mixers. Designed and built with the brief that good looks should always aid ergonomics, these low profile, low-noise, high-headroom, slim-line mixers are available in four configurations:
Live 802: 8-Channel, 2-Bus
Live 1202: 12-Channel, 2-Bus
Live 1604: 16-Channel, 4-Bus
Live 2404: 24-Channel, 4-Bus
These live mixers allow anyone to settle in straight away. Each XLR microphone channel is equipped with Alto's unique DNA preamps and switchable phantom power supports both dynamic or condenser microphones. Select mic channels offer analogue dynamic compression, each with an individual control knob. Each channel features its own 3-band EQ—the 4-bus models add sweepable mids—and there is a 9-band graphic EQ that can be applied to the main or monitor mix. All of the mixers also offer up 100 Alesis DSP effects (10 effects, each with 10 variants) providing additional creative control in any mixing environment.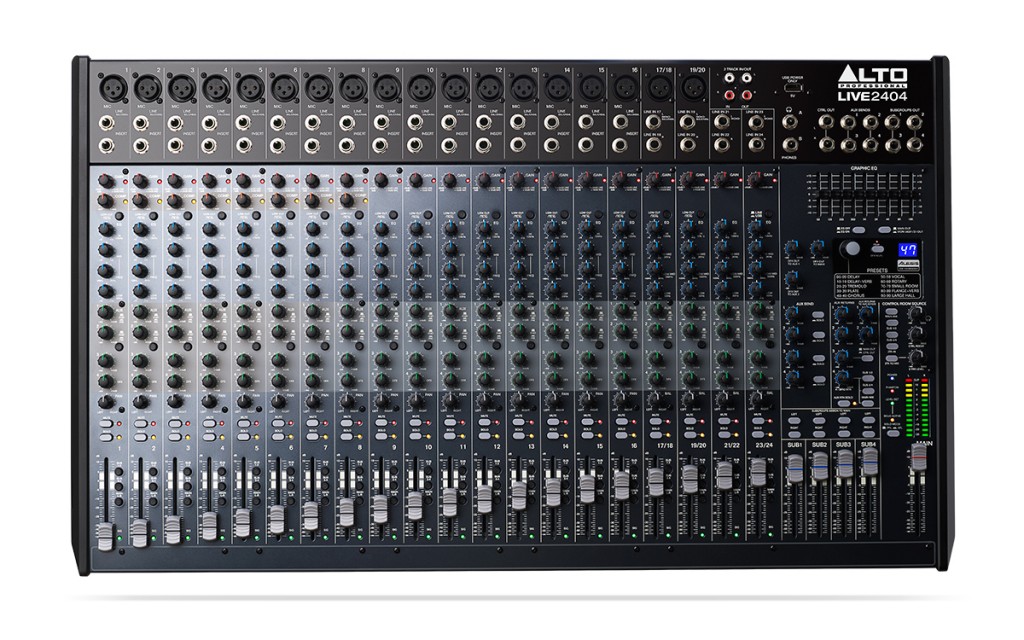 Mono channels feature an XLR input, balanced ¼-inch line input, and a TRS insert jack. Each mono channel offers a low-cut filter, gain control, three-band EQ, pan knob, mute switch, and a 60mm smooth-travelling fader. Stereo channels trade the insert jack for a second balanced ¼-inch input. In addition to having two more send knobs, 4-bus models include a pre/post fader switch for the first two sends.
The desks also feature USB audio in and out. This 24-bit USB audio feature enables the stereo main or monitor mix to be recorded to a computer, or allows for the playback from a laptop or other USB audio source controlled by a dedicated level knob. Live Series mixers are equipped with an onboard USB jack to power lamps or charge mobile devices. A footswitch can be used to toggle the effects on and off. LED 12-step metering and an easy-access headphone out with independent level control help keep the mix under control.
"Our Live Series mixers are the highest-featured, best-sounding mixers in their class," noted Dustin Plumb, Product Manager, Alto Professional. "Our U.S. engineering team went to great lengths to ensure that every detail was designed to meet or exceed Alto Professional standards and provide the end-user an intuitive and transparent mixing experience. From the sonic nuance of the all-new low-noise, high-headroom DNA microphone preamps, to the dynamic performance of the onboard compressors, our all-new Live Series mixers give upcoming musicians and seasoned pros the sound they desire and the quality they deserve."
Live Series analog mixers are available from authorized Alto Professional dealers worldwide with the following street prices:  Live 802 ($229), Live 1202 ($279), Live 1604 ($499), Live 2404 ($599). For full details on all desks in the range go to the Alto Professional Mixer page.